The smoke-free policy assumes that all employees will be apprised at hire of the rules and consequences for violations, and will be reminded of it as the need arises. Supervisors are expected to make sure the policy is known and followed. The following should help supervisors:
Talking Tips
If you find people smoking on campus grounds respectfully ask whether they are aware of our smoke-free environment policy.
This policy means there is no smoking except on sidewalks along major thoroughfares and in personal vehicles. This policy is important to the health and well-being of all our employees, visitors and students.
The person may ask where he or she can smoke:
Please direct him to the nearest sidewalk along a major street and explain that smoking is allowed on sidewalks that border major streets. Smoking inside a personal vehicle is not prohibited per the policy.
Offer assistance/support. Make sure people are aware of the MHealthy Tobacco Consultation Service (TCS) and how it can assist.
If appropriate, offer them information about campus resources available to help them quit. The Tobacco Consultation Service (TCS) offers free tobacco cessation counseling. TCS can be reached at 734-998-6222 or quitsmoking@med.umich.edu.
Frequently Asked Questions
U-M has been smoke-free in buildings since 1987. What led to the expansion of the policy to cover all university grounds?
This step was taken as part of a broader U-M initiative, called MHealthy to ensure a healthy overall environment for faculty, staff, students and visitors.
Is the university requiring that people quit smoking?

No. The university policy says that smoking will not be allowed on university grounds. The university will support those who choose to quit through smoking cessation programs that have been offered for many years.
What are the borders of the smoke-free environment?
The grounds of all three U-M campuses are smoke free, as well as the grounds of any off-campus facilities owned or leased in total by the university. The ban does not extend to the perimeter sidewalks of the U-M campuses. A perimeter sidewalk is one that runs along public thoroughfares. For example, near the central-campus Diag, smoking will be allowed along South State Street and North University, but not on any sidewalk that cuts through the Diag or between buildings.
Can I smoke in my own vehicle within the smoke-free environment?
Yes. Smoking is permitted in private vehicles parked on the U-M campus. University parking lots are included in the smoke-free campus, but the ban does not include inside vehicles parked in those lots. Smoking in U-M vehicles has been banned since 1987.
Why are there no butt huts or designated smoking areas? The university does not provide places for smokers to congregate. Smoking will be permitted along the perimeter sidewalks on campus and we believe that will provide those who continue to smoke with accessible areas in which to smoke.
Are smokeless tobacco and e-cigarettes banned?
The main campuses only ban combustible tobacco products at this time but all forms of tobacco and e-cigarettes are prohibited on the medical campus.
How is the policy enforced?
The policy seeks voluntary compliance. An explanation of the smoke-free campus is included in the orientation program for new employees and students, and in materials distributed to all outside groups that use university facilities. We believe reminders about the smoke-free campus, including signage, messages in marketing materials, reminders on event tickets and through other communications tools helps us reach visitors and those who are new to our university..
What if people don't abide by the policy?
For students and employees we expect to deal with repeat offenders in the same way that violation of any other policy of the university is handled. Repeated student smoking violations should be directed to the Office of Student Conflict Resolution. For staff, the Standard Practice Guide explains the process for a repeat offender.
Tools
Sample reminder letter for use in areas of concern (to be used and signed by supervisors)
Dear Employees of [Facility Name]:
Recently, there have been several reports of instances at [location] of employees smoking in [area or location] that do not comply with the Smoke-Free Policy. Please remember that smoking is prohibited on all U-M properties with the exception of sidewalks along a public thoroughfare and in personal vehicles.
The Smoke-Free Advisory Committee recognizes that implementation of the policy may make it more difficult during work hours for individuals who smoke. In response, the University has made tobacco cessation services available to employees and their spouses, at no cost, to assist those employees that are interested in quitting tobacco or learning about nicotine replacement therapy to assist their smoke-free efforts at work.
Tobacco Consultation Service (TCS) provides confidential smoking cessation intervention services coupled with nicotine replacement therapy. Studies have shown that using nicotine replacement therapy with a smoking cessation intervention doubles the chances of successfully quitting tobacco use. For more information about the smoke-free initiative or TCS services, please visit our website at mhealthy.umich.edu/tobacco.
Thank you for your assistance in this matter.
Printable SFE Signage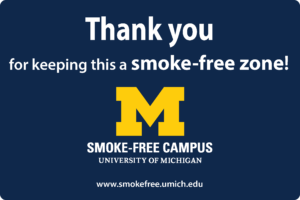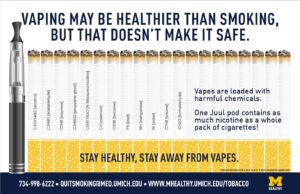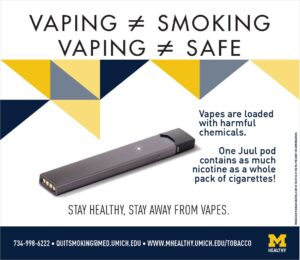 Logos are available for units that wish to include them in marketing materials, on websites, etc. Requests to smokefreeuniversity@umich.edu
Report a recurring problem: smokefreeuniversity@umich.edu