About the policy…
In order to promote a healthier campus the University of Michigan went smoke-free July 1, 2011. The policy, established after consultation with the campus and surrounding community, includes all buildings, facilities and university-owned vehicles on all three U-M campuses in Ann Arbor, Dearborn and Flint. The medical campus updated the policy in 2016 to include a ban on all tobacco products and e-cigarettes.
The policy it is one that seeks the cooperation of all who work and study on campus, and those who visit the university. It relies on peer support, supervisory oversight and voluntary compliance.
As part of MHealthy, a campus-wide program to encourage wellness within the community, U-M is committed to helping those who wish to quit.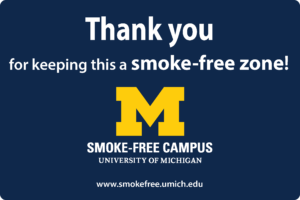 Outbreak of Lung Injury Associated with E-Cigarette Use, or Vaping:  CDC, the U.S. Food and Drug Administration (FDA), state and local health departments, and other clinical and public health partners are investigating a multistate outbreak of lung injury associated with e-cigarette product use, or vaping.  For more information, click here.                                    Contact the MHealthy Tobacco Consultation Service if you need assistance to quit e-cigarettes, JUUL or other vaping products at 734-998-6222 or quitsmoking@med.umich.edu.